"The art of teaching is the art of assisting discovery."
— Mark Van Doren
YAMA TEACHING ARTISTS HAVE YEARS OF EXPERIENCE IN THE CLASSROOM AND ON THE CONCERT STAGE. EACH TA BRINGS A UNIQUE WAY OF CONNECTING WITH STUDENTS, TEACHING, AND CONTRIBUTING TO THE YAMA COMMUNITY.
Stephanie Hsu
"Play dangerously!" is a mantra that worked its way into Stephanie's mind from a young age. Her mother and violin teacher reminded her that it's not how many notes you get right, but how you move people that matters. Ms. Hsu is an educator on a journey to facilitate the growth of students and fellow staff members, to encourage all of us find and use our voices, and to build community through music-making, risk-taking, and real talk.
Inspired by a lifetime of music-making and her time at the New England Conservatory's Sistema Fellows Program, Stephanie seeks to increase the social impact a music program can make in a complex world. Her travels in Venezuela, visiting El Sistema núcleos and making music with Venezuelan students and teaching artists, cemented her conviction to create a program that fosters creativity, curiosity, ownership, and connection.
As YAMA's Founding Executive Director, Stephanie has brought together a team of community members, parents, students, and professional teaching artists to create a student-centered program that is much more than just an orchestra. On any given day you might find Stephanie budgeting in Excel, facilitating meetings, teaching violin, chatting with parents, caring for her vegetable garden, or shamelessly singing in nature (or anywhere else) with friends.
Alex Pualani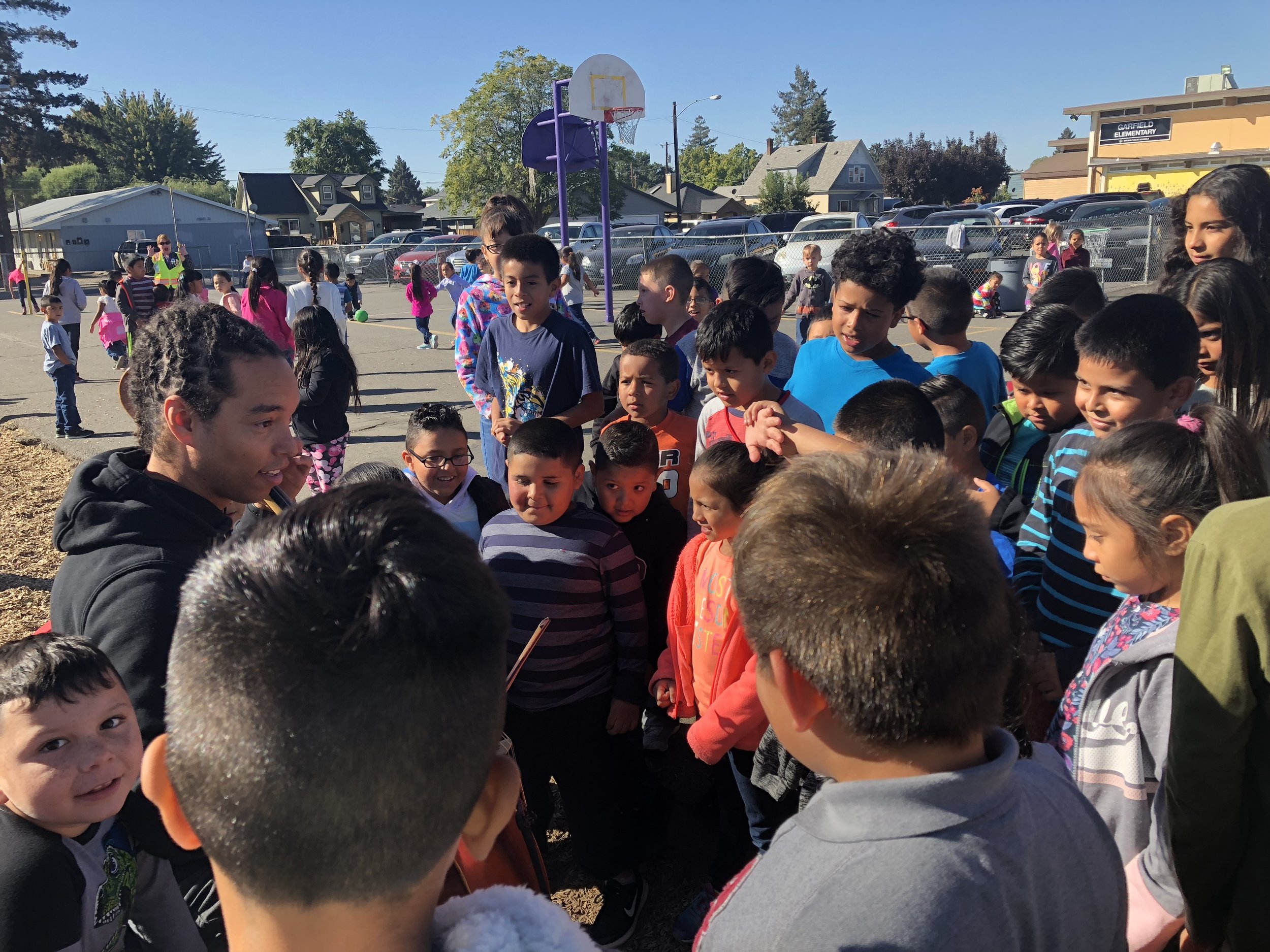 Alex Pualani -- or Mr. P, as he is affectionately known at YAMA -- believes that studying an instrument and finding your voice are interconnected and parallel processes. As a member of YAMA's Founding team, Mr. P embodies and champions this philosophy in all of the teaching he does at YAMA, from teaching young cellists and conducting orchestras to coaching new Teaching Artists on the YAMA team. As a Black cellist in central Washington, Mr. P is both a pioneer and an advocate, familiar with the constant cultural straddling required of young musicians of color and constantly fighting to make the classical world a place that not only welcomes, but needs, the talent, perspectives, strengths, and voices of young musicians of color.
Mr.P holds a B.A. from Gonzaga University and his M.M. in Performance and Pedagogy from Central Washington University. He has worked closely with and been shaped by teachers Kevin Hekmatpanah, Minna Rose Chung, John Michel, Hans Jorgen Jensen, Julia Lichten, and Christy Baisinger. As a lifetime member of the School of Lifelong Learners (disclaimer: not a real school -- yet!), Mr.P is always engaged in learning or building something new, from learning how to make ramen by hand to building his own teardrop trailer in a month
Mr.P lives with his wife Beth, son Gabe, daughter Harper, and two dogs, Abby and Brahms. He is a member of the Mid-Columbia Symphony Orchestra and maintains a large studio of cello students of all ages. To learn more about Mr. Pualani, visit his website here.
Jen Moultine
Jennifer Moultine, Cello Teaching Artist and Site Director for YAMA Philharmonia, YAMA's leadership program housed at Davis High School, lives in Ellensburg, WA. Taking a rather winding path away from and back to Central Washington, Jen has studied music, performed throughout the northwest, been a baker, lived in the jungle of Ecuador, managed a crisis hotline in Olympia, WA, studied public health and writing at the Evergreen State College, worked as a music librarian, and been a stay-at-home mom, among other things. Mrs. Moultine has been a member of the Yakima Symphony Orchestra since 1999 and joined YAMA as a Teaching Artist in January 2014. She also plays baroque cello, performing regularly with the faculty of Central Washington University and other early music performers in the University's Musica Antiqua Series and around the Pacific Northwest. Mrs. Moultine enjoys hiking and hanging out with her husband and two kids when she is not making music with her YAMA family.
Jenny Humphrey
Jenny Humphrey is excited to be a part of the enthusiastic and versatile YAMA team. Starting her violin studies at age seven, her professional career includes teaching orchestral strings in the Tucson Unified School District; a decade of private violin instruction in Eugene, OR; and directing and serving on the Board of Directors for several traditional fiddle camps. In Tucson, she performed with the University Orchestra, and she has performed throughout the Northwest with her band, Kingdom County. Mrs. Humphrey received her B.A. in Music Education from Central Washington University, and loves gardening, stained glass making, and adventure.
Sue Chirco-Coontz
As Administrative Manager for YAMA, Sue Chirco-Coontz brings to the organization over 16 years of experience with the Yakima Symphony Orchestra where she worked as Ensembles in Schools coordinator, office administrator, customer relations manager, box office manager, volunteer coordinator, and personnel manager. In addition, she spent nearly a decade in the private school sector as a classroom assistant and school secretary.
As a classically-trained vocalist, Mrs. Chirco-Coontz is passionate about music and is thrilled to be a member of the YAMA team. She received a B.S. degree in Health/Religion from Weimar College with subsequent studies in Elementary Education from Pacific Union College and Walla Walla University. Throughout her high school and college years, and beyond, she dedicated much of her time to participating in a variety of solo, duet, trio, and choral works, including the role of Edith in Gilbert and Sullivan's Pirates of Penzance.
Mrs. Chirco-Coontz enjoys spending time with her husband, Brian, and immersing herself in nature, especially the forest and mountains. Favorite activities include gardening, hiking, mowing the lawn, and studying maps.
Vanessa Moss
A native of Washington State, Vanessa has established herself in the Pacific Northwest as a versatile orchestral musician, chamber player, soloist, and educator. She collaborates with orchestras across states, serving as Assistant Concertmaster of the Salem Symphony, first violinist with the Yakima Symphony, and regularly performing with groups including the Spokane Symphony, Auburn Symphony, Newport Symphony, and Vancouver Symphony. In 2014, Vanessa was invited to tour with the Fairbanks Symphony to South Korea for the Gumi International Music Festival.
As a soloist and chamber musician, Vanessa has been seen performing with Cascadia Music's Pipestone Orchestra and is a frequent guest artist to Twisp Work's Spartan Project (Twisp, WA) and the Washington Allegro Vivaci Ensemble (Bellingham, WA). She was featured soloist with Central Chamber Orchestra, as well as the recipient of the 2013 Achievement in Live Performance award for her performance of Vaughn William's Lark Ascending. As violinist of the Mundana Trio, Vanessa toured to New York City, placing second at the National level of the Music Teachers National Association Competition.
As an educator, Vanessa is committed to sharing her passion and the discipline of musical practice through both her private studio and El Sistema inspired programs, working with both Portland's BRAVO Orchestras and Yakima's Yakima Music En Accion (YAMA). She is thrilled to be joining YAMA's incredible team next year as a teaching artist.
Vanessa is a graduate of Central Washington University, her primary teachers have included Carrie Rehkopf-Michel and Denise Dillenbeck.
Joshua Gianola
Joshua Gianola, a founding member of the YAMA team, brings with him a wealth of teaching and performing experience. He has served as principal percussionist of the Yakima Symphony Orchestra since 2013, and is an active free-lancer in the Northwest. Josh has shared the stage with the Oregon Symphony, Spokane Symphony, Mid-Columbia Symphony and many other fine ensembles.
Josh currently works with the YAMA orchestras as a theory teacher, and large ensemble conductor. He can also be found working with Toppenish High school and Middle School as their percussion specialist, and as an adjunct theory professor at Yakima Valley College. Josh holds a Masters in Music degree from Portland State University, and an undergraduate music degree from Central Washington University.
When not performing or teaching, Josh enjoys cooking, mowing the lawn, and watching Parks and Rec at home with his fiancé Vanessa Moss, black lab Gilly, and cat, Cat.
Eva Stoumbos
Eva Stoumbos, double bassist, started playing bass in sixth grade orchestra class and has never looked back. Originally from Vancouver, Washington, Eva has played in orchestras and festivals around the Northwest and is currently pursuing a B.M. in double bass performance from Central Washington University, studying under Dr. Anna Jensen. Eva is thrilled to return to YAMA to work with the Philharmonia Orchestra for another year of music-making.
Aaron hirsch
Aaron Hirsch is excited to begin his first year as YAMA Philharmonia conductor. Aaron, a native of Minnesota, lives in Ellensburg with his wife Erin, and works at Central Washington University as an Adjunct Professor of Orchestral studies. In this position he conducts the chamber orchestra and teaches conducting courses. Furthermore, Hirsch is going into his third year as Cover Conductor for the Yakima Symphony Orchestra. As a conductor, Aaron has experience working with the Dresden Philharmonic Chamber Orchestra, Oregon Bach Festival Baroque Orchestra, the Wenatchee Valley Symphony Orchestra, Yakima Youth Symphony, Young Musicians of Minnesota, Minnesota Youth Symphonies, and the West Seattle Community Orchestra. He is also an avid educator, and is in demand as an adjudicator for orchestra and piano festivals around the Northwest.
In addition to his conducting, Hirsch sings with Yakima-based ensemble Canticus, is a frequent recitalist on the organ, and collaborative pianist with faculty and students at CWU. For more information, visit www.hirschmusik.com.
Auburn Weiss
Auburn Weiss is a violist with a Bachelor of Arts degree from Central Washington University. Auburn takes the most enjoyment of music in the form of improvisation. They seek to bring the freedom and creativity of improvisation into their teaching at Yakima Music en Acción. Auburn believes that learning starts with mistakes and strives to create a space where artists feel safe enough to be vulnerable. At YAMA, Auburn believes every member helps sculpt the classical tradition, bringing it into the present and future.
Maren Kilmer
Maren Kilmer is a viola performance major at Central Washington University aspiring to perform, teach, and share music with whoever she meets.
She started playing viola when she was nine and has been pursuing it ever since in various orchestras and music camps such as Seattle Youth Symphony Orchestra, Bellevue Youth Symphony Orchestra, the Central Washington University Orchestra, Mid-Columbia Symphony, and Marrowstone Music Festival.
Maren is super excited to grow and work with YAMA.
Emily prud'homme
Coming from a small Southern New Hampshire town, Emily Prud'homme is excited to be YAMA's first Jesuit Volunteer. She will serve as a Leadership Development Coordinator, assisting students who are pursuing higher education and exciting futures. Emily studied Spanish and International Relations at Saint Anselm College in NH. Through her involvement in service trips and Spanish studies, Emily decided she wanted to complete a year of service with Spanish-speaking opportunities. Upon being accepted, the Jesuit Volunteer Corps Northwest placed her with YAMA! Emily loves the outdoors and is excited to hike, ski, and explore the beautiful mountains near Yakima. She is also looking forward to learning a thing or two about the musical world!
Levi Golan
Levi Golan has been playing the violin since the age of 4. He fell in love with classical music and attended Central Washington University for violin performance, with the ultimate goal of becoming a conductor. He has worked with symphony orchestras throughout the Pacific Northwest. Currently he works as a Teaching Artist at YAMA and is also the music director at Christ the Teacher Catholic School.
Levi enjoys working on cars, going to baseball games, and practicing his violin in his free time. Since starting at YAMA, Levi has discovered a new passion for working with children and is excited to see their growth as musicians and as people
Joe Sawyer
Joe Sawyer is a Sophomore at Central Washington University where he studies Cello Performance and Music Education under the instruction of Professor John Michel. Growing up in Bellingham, Washington, Joe started playing the cello in the 5th grade strings program and moved on to study with Coral Marchant for 8 years. Joe has played in many music festivals and camps, such as the Seattle Bach Cello Marathon and Marrowstone Music Festival, and played in masterclasses with Efe Baltacigil, Zuill Bailey, and Narek Harutyunyan.
Joe hopes to open his own private cello studio in the future and pass on his love of music to others. He is excited for a great year of music making and learning with YAMA and is more than excited to work with amazing, eager students, and join the creative, intellectual, and kind individuals that make up the YAMA team.
Maria rodriguez
My name is Mary Alice Rodriguez. My birth name is Castillon, meaning "little castle". I was raised in the State of Washington, and currently live in Yakima. Growing up my family consisted of 4 girls, 2 boys, and my parents. Big family! I have 3 boys of my own and 1 Grandson.
I have worked for a couple of different school districts, mainly in Yakima. My first job with Yakima was working with "At Risk Youth". This job was at the Yakima Learning Center, a part of Stanton Academy, the local alternative school. It was also known as "Last Chance School". This was back in 2000, and the school is no longer there. Since then, I've been working with General Ed kids K-5, Special Ed K-5, and in a Behavior Cassroom K-5.
As you have figured out by now, my passion is working with kids. Although I won't actually be "working" with kids, I will have the opportunity to watch them learn how to make beautiful music.
I really enjoy spending time with my family, and visiting my dad on Sunday's and any other chance I get to spend time with him. I LOVE the beach! Camping, bon fires, drives up in the mountains are also some of my favorite things to do. Music. My life would not be complete without music in it.
"Where there's a WILL there's a WAY" {from the autobiography of Waylon Jennings}